25-50-75
"The Danish Floorball Union (DaFU) received some good news in December when the boards of both Danish Sport Federation´s (DIF) and DGI (Dansk Gymnastik och Idrott) approved the first Vision Project Agreement for 2015-2018. Floorball being one of the sports elected for this Project."
Said the IFF today.
---
We say - Denmark Denmark Denmark - U will make something fully remarkable.
By 2025 - Denmark will - as the IFF reports, take 50% - or half of its population -to be active in sports clubs - and this goal in Denmark, also states - that 75% of the Danish population by 2025 will be active in a sport.
If you work with troubling sport participation numbers - kids drop-out rates at the age 13, or just with #LTAD.
Our advice is plain and simple - move to Denmark.
It is rare that we repost a full article from the IFF - today is rare! We think they understand - courtesy of IFF:
---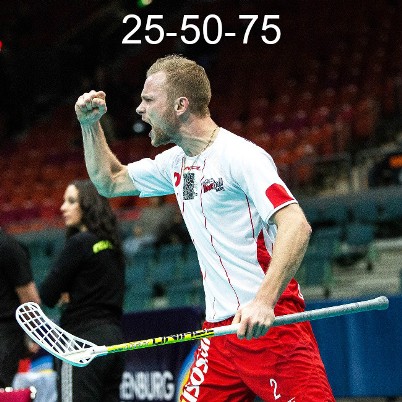 The project is the first phase in the large 25-50-75 common vision for DIF and DGI where five sports (Running, Cycling, Handball, Badminton and Floorball) are selected to bring more Danes in 2025 into the sports clubs (50% of the population) and to get more Danes active within sports (75% of the population). Thereof the name of the project: 25-50-75.

The project for floorball towards 2018 includes a specific focus on two tracks; more members in the 50 existing floorball clubs and more floorball clubs to be established around the country. ln 2017, the project will be spread out to be nationwide in DGI with an established joint cooperation Project with DIF and DGI.

The goal is to almost double the amount of floorball players until 2018, from 6 500 in 2014 to 12 000 in 2018. In order to achieve this,10 million Danish crowns have been allocated for 3 years (3.3 million annually).

- On the behalf of the Danish Floorball Union and Floorball, I am extremely proud that we can now present, a so economically attractive and large project that makes it possible for the individual floorball club to develop the sport locally. We have in DaFU, long worked towards making it easier for the individual clubs to develop and this cooperation will support the development, says DaFU Chairman Thorbjorn Ovedal and continues:

- It is the largest project in the history of Danish Floorball and we expect that with DIF and DGI as strong partners, we will be able to provide the boost that floorball deserves. And I look forward to DaFU now being able to support the clubs so that we can move floorball to the next level.

The project started on 1 January 2015 and the first half of the year there is much start up work before it finally can be rolled out for clubs and other players after the summer 2015.

Project Facts:
- Runs for 3 years, 2015-2018.
- Pool for clubs with a total of 2.3 million total over 3 years incl. equipment.
- Funds for the recruitment of 4 DGI Part-time Consultants and 1 new DaFU consultant.
- 50 selected clubs offer tailored concepts for club development, equipment and project funds
- Concepts for children, families, late starters and elderly people.
- DaFU Project Manager from January 2015 will be Nils-Ola Nilsson.
---
Floorballcentral earlier said some Utopian and outlandish stuff here - like recreational players ought to be paid for the sports they do... We will not dwell into that line again here tonight.
But we will clearly state that it is very important to note that this game changer in Denmark for how their society view sports - fully include and support Floorball for the future - more heavy politicians at other places should know - see and recognize this. Running, Cycling, Handboll and Badminton are perfect partners for this national initiative and effort - together with Floorball.
Photo: IFF WFC 2014/Miina Anahita/ text in blue via the IFF