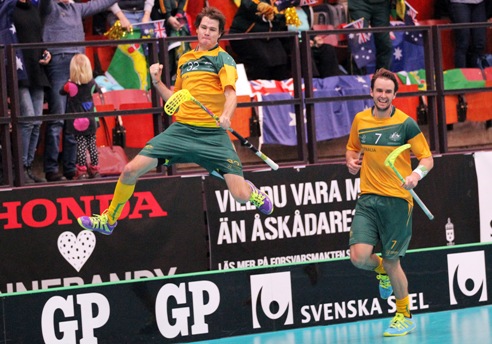 A Kangaroo jump - Linked via the IFF
What is so utterly interesting with Australia is that many players are from a field hockey culture. We think we have seen before that some Australian Floorball teams all play righty - since so many has been schooled in a field hockey environment - with players using sticks only on one side.
Today they met Russia, and as most of you know Russia and its culture is very much revolving around Ice Hockey - and most likely - many of the Russian Floorball players that played in the World Floorball Championships today - has played some rather advanced ice hockey too.
This time field Hockey won... does that mean field hockey is a better foundation - as from a more cultural perspective as we talk about cross skills from other sports?
Nope we do not think so - but doubtless Australia seems to be a little ahead of Russia today as it comes to the more specific for of Hockey we care about here - Floorball.
Yes we though Russia would win this too... Good work Australia..
and a
Big congrats to Australia... this is good for Asian Floorball.
Here is the perfect coverage via IFF
http://www.floorball.org/news.asp?kieli=826&id_tiedote=4189