We could have not said this better ourselves and this man writes better than Hamlet (at least if you love hockey more than poetry).
Take it away Dennis!
----------------------
And Now For A Great Off-season Training Idea
I introduced this idea a few weeks ago, in hopes members would set some space aside — in their off-season schedules, and in their heads — to expand their stick-skills quite a lot. To be honest, if I had yet another young Chighisola coming along in the game, I'd have a floorball stick in his or her hands as soon as he or she was capable of chasing a ball around the house or yard.
With that, my idea follows…
– Dennis Chighisola
And Now For A Great Off-season Training Idea
Okay, to begin, I'm not making a big deal of this at all. What I'm really suggesting is that every member — including goaltenders — get a floorball stick and ball, watch a few videos on "Zorro-ing", and then just fiddle with the stick and ball as often as possible.
As an aside… I've known hockey players since I was a youngster, and I've studied them for at least the past 40-years. More than anything, I've discovered that the good ones tend to be fidgety types. I mean, they can't stand still for long — some of my favorite pros can't even remain still during the playing of their anthem, and most of the good ones love having a stick in their hands, and a puck or ball to fiddle with.
What I've also discovered is that we can actually encourage a "puckhandler's mentality" with fairly young kids. That's part of the purpose of my
Incredible Stickhandling
video, and it's also the reason I'm encouraging my member friends to give the floorball "Zorro-ing" a sincere try over the next few months.
I'm doing all I can to encourage you here… I found a friend in the floorball equipment business, and he's promised to give my friends a very fair price for a stick and ball. (I receive absolutely nothing from those sales.)
My friend has also provided some information for selecting a stick, etc.
Then, in the end, I'll provide a few more informational and demo video links.
Just to remind you of how the floorball stickhandling tricks had to be named, I'll refer to the old 1960′s TV show — called "Zorro", wherein each episode began with the star moving his epee through a quick Z-type action.
Click the picture to the right to gain an understanding on selecting a floorball stick…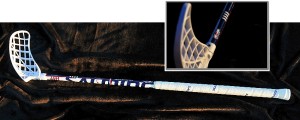 Here's a pretty good video about picking the right stick for you…
And, at some point, you might like to curve your stick-blade…
I doubt many members will need the following information at first, but what the heck…
Okay, before showing you a few pretty good "Zoro" videos — as kinda incentives, let me say that I'm not necessarily suggesting that member players spend their entire spring and summer playing with a floorball stick and ball. Instead, what I'd highly recommend is that players use it to fiddle at times when it makes sense.
During the many years when I was a hockey dad...........................................
...........................

Wait a bit hold on here - if you want to read the rest - on zorro and more hockey philosophy - oh here is da link