Several times we have reported on Dallas Stars Floorball initiative and how they use their own Floorball sticks as a fitness initiative in TX schools and have had Floorball demonstrations outside the American Airline Center. We wanted to know more so we checked in with Ms. Frances Gulick, she is Youth Hockey Development Manager with the Stars.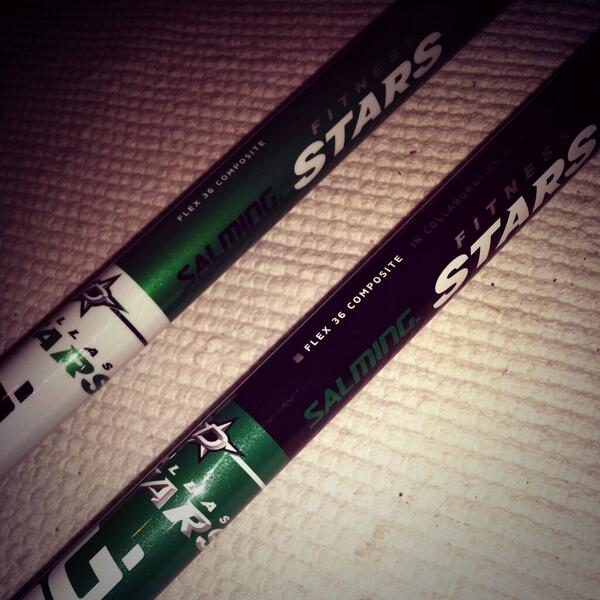 A cool Floorball stick with real NHL logo decorations - the only in the world so far. Picture by Floorballcentral.org
---
It is now a few weeks since you announced the Dallas Stars Fitness initiative. Could you describe how the response has been at the schools you have visited so far from both the students and also from school officials?
·
The program started right before the holiday for some schools and most are doing their units this month. The teachers cannot express their gratitude enough and have had nothing but wonderful things to say about the equipment. They love how easy it is to store, transport and above all, the weight difference between that and a traditional street hockey stick. Thrilled would be an understatement.
The Stars Fitness initiative include Floorball as a new activity to fight obesity. Are you really able to have overweight students to run around hard using Floorball?
·
Absolutely! By targeting elementary schools, we're tapping into "playtime" for kids by having them enjoy themselves first and the exercise is an afterthought. The kids are having so much fun that they tend to fight through the "pain" of exercise. We've found a lot of kids are actually helping other kids a lot more, encouraging them to keep going, instead of bullying them because they can't. It's been such a wonderful thing to watch on our end!
Are you able to send some good instructors from the Dallas Stars to school or after school programs?
·
We hold a "Train the Trainer" session for each school or district with our Dallas Stars street squad to go over how we teach floor hockey at our camps and clinics. Besides teaching the fundamentals of Floorball, we focus on how to teach the drills so they're easy for kids to understand and pick up.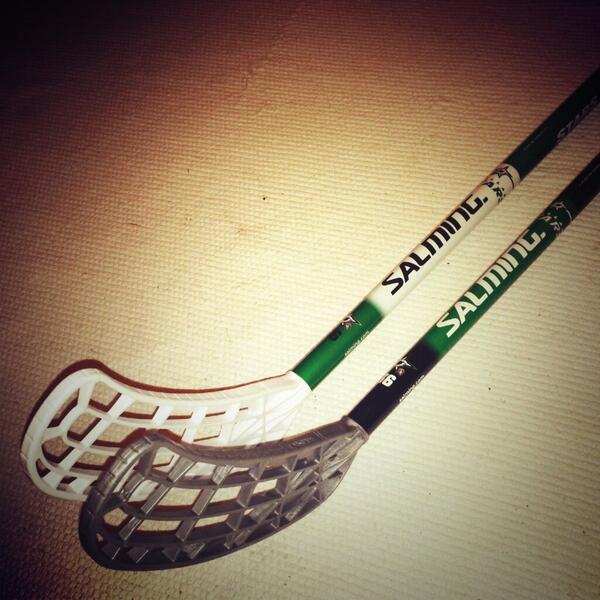 Right now money can't buy this - Picture by Floorballcentral.org
You have designed your own Dallas Stars Floorball sticks for this program - how does the students react to these sticks and what age groups do you aim mainly at?
·
We are only targeting elementary schools right now as our goal is to increase the number of 4-8 year old exposed to this sport, creating a hockey fan early and for life. The students who have used the equipment so far love the sticks because they're much easier to manage than a traditional street hockey stick.
Will these sticks eventually be for sale at your NHL merchandise sale channels?
·
As of now, we are keeping these solely for our Fitness Stars program.
What is the tempo like in the Floorball games you play at school - and do you yet have some live footage of a school session when kids play Floorball with the new Dallas Stars Fitness Floorball sticks?
·
We do not have footage yet and probably won't for a while. We can't go into schools and get raw footage without having media releases signed, which is something that is very difficult to get from schools. I'm hoping to have some pictures by April/May of kids playing and pending releases.
There are many official and unofficial organizations in the USA that say they work to curb over-weight problems among the youth. Has any other organization showed some interest in what you do - and tried to investigate your program?
·
We have been contacted about the program from other NHL teams, mostly to discuss how we implemented into our schools.
Is there any plans to evaluate this your effort and if so how? Any preliminary findings at this point?
·
Because the program just launched, we don't have any preliminary findings yet and we rely on the schools to report its success. The goal for us is to make this a program that schools consider part of their curriculum so they're tracking the results on their end, then reporting to us at the end of each year.
And, do you think Floorball in school is bad or good for the larger ice hockey community?
·
I think it's great! Most of the schools around here have never taught hockey at all so this is a new sport for many of the kids involved. Because of that, it's something fun and unique that they enjoy learning beyond the standard soccer and football. The increase in awareness is great for our community because so many kids never realized this was a sport they could participate in. Every Fitness Stars participate goes home with our Little Rookies information, our free hockey camp for kids 4-8 years old. (
www.dallasstars.com/littlerookies
) We are working to progress these kids from their PE Floorball class to Little Rookies and eventually into a hockey program.