A BARGAIN @ $ 33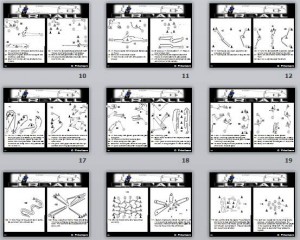 Floorballcentral recently hooked up with flrball.com and since they focus on drills for Floorballplayers. Since they are at an advanced level of Ice Hockey Coaching as well as Floorball Coaching. Since their material is produced in English. Since their material has been offered and sold across Europe. Since Flrball.com have both Swedish nd Finnish roots....
It all comes as a natural match that we will offer some of their stuff here for the Americas too.
So who will benefit from 300 Floorball drills?
We say that first this is for all clubs that are already up with Floorball activities across America. We say that this could probably be a goldmine for those that think that Floor Hockey is a good thing (we however do recommend if they want to be up to date they should do Floorball instead). It would further not surprise us if some field hockey folks also would get some kicks out of this.
But we say that they true potential is with the massive amount of Ice Hockey Clubs across America - that runs out of ice during the summer - and do not know what to do..
Well this is what some of the most successful Ice Hockey operations in Europe do as they do not have any ice - they play a little bit of Floorball.
300 Floorball drills from flrball.com is a unique beginning for us and if there is interest - we will offer many more of these books through floorballcentral.org and our store "twigs to grab".
33 Dollars may normally buy you one basic Floorball stick. 33 Dollars means that each and every of these drills cost about 30 cents each...
We start today to offer 300 drills as a beta test. This means that you may not download this directly from us, instead the e-book will be shipped via email. But we assure you as the drills are ordered we will send em' as soon as possible... or normally within hours..